We proudly stand behind our work and will strive to give you the highest quality service for your next project. Our staff is well qualified and award winning. Our services range from small business to large-scale corporate video presentations and marketing. We support corporate, industrial, small business, event, convention, trade show and almost any other type of video or marketing that you may need.
Contact us today to discuss your next project.
Imagination Unlimited was formed in 1988 in support of a contract for the United States Navy. Since that time our award winning staff has produced thousands of video productions for corporate and government agencies around the globe. In the past we have worked with Fortune 100 companies such as: Lockheed Martin, Siemens, GE and FedEx developing cutting edge video productions for use in trade shows and marketing of complex systems and services.
more info

Tweets by @iuvideo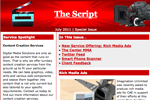 IU Newsletter
At Imagination Unlimited it's important for us to stay current with the latest marketing and video production trends. Click the link below to read our newsletter which outlines some of the newest technology in our industry today. Click here